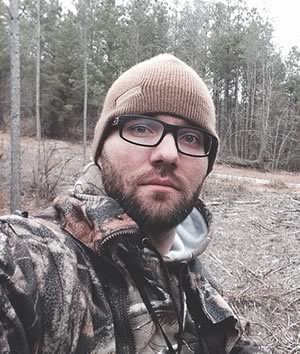 I'm a happy father and husband and I love to bow hunt.   I was introduced to hunting back when I was 12 years old but at that time I was only familiar with hunting using a rifle. It was 2009 when Scott convinced me to put the rifle down and try a bow.  There is something about hunting with a bow that makes the hunt ever more challenging which is what I think drew me in.  I've always love hunting but now I feel I have a new passion for hunting because I hunt with a bow.  That doesn't mean I won't ever use a rifle again, it just means I prefer my bow over my gun these days.
What I like to do when I'm not hunting:
During the off season of hunting, I like to section hike up the Application Trial, kayak down the Chatooga river through class III class IV rapids, fly fishing on the Chattahoochee River, and finding perfect weather to take my beautiful wife and son camping.
My Professional Life:
As much as I like to get away to the outdoors, I do have a professional life as a freelance web designer.  I've had the pleasure to design for some great outdoor companies.  It's because of my clients that I can work from home and have a closer relationship with my family which allows me to watch my son grow up and be there for him. That means more than anything to me.
Why podcasting?
I love listening to podcasts and their have been some good ones over the years regarding bow hunters. Lessening to podcasts helped me improve my ability as a bow hunter and while there a few other podcasts on bowhunters, I believe Scott and I have a different take on the subject and feel this is a great outlet for us.  I hope in time people will come to trust our BowRush Podcast as a source to learn more about bow hunting.
My current bow setup:
Bow – Mathews Drenalin @ 72.5 pounds
Sight – CBE Tek-Hunter Pro Camo
Rest – Quality Archery Designs: Ultra Rest HD Pro Series
String – Winners Choice
Arrows – 300 grain Radial X Weave: Still Hunter
Broadheads – Slick Trick Magnum 100gr
Release – Scott Archery
Bow Quiver – Trophy Ridge 1-Piece Detachable 5 Arrow Cage
Deep down I feel that anyone who is a hunting has a bucket list on certain animals that they want to go after before they die.  I say go after because hunting is a very clear meaning which is to hunt.  Or better yet let's use the direct meaning which is... read more