Podcast: Play in new window | Embed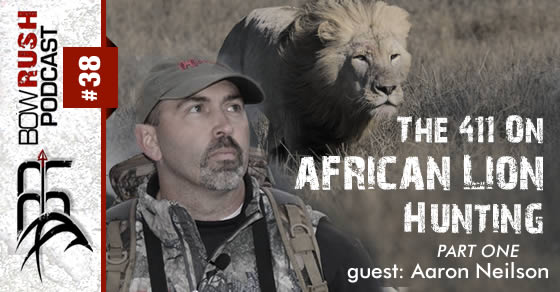 Do you even know what's going on in Africa right now with lions?  I bet you don't. Heck, we didn't know the real story either and with all the news, media and their one sided agenda, it just made it even harder to get the truth.  After speaking with Cody Draper on his most resent African Lion hunt, he was adamant that we contact Aaron Neilson as he is one of the few people who actually understands the whole story.  Well, that's who we have on here today and I assure you that you will be satisfied with what Aaron has to say.  Why do we feel Aaron is the right guy to be speaking with? Well… how about that he's hunted in Africa over 1000 days, which is an incredible feat in itself, so we think it's safe to say that Aaron knows what he's talking about.
Fun Fact:
Africa is a continent, it's not a country.  There are 54 soviet countries on the continent of Africa.
Show Notes:
What most western Americans don't understand is that Africa is a third world country and thus the people that live there live by third world rules.
As human population grows, wild animals will always loose.  When the wildlife starts to encroach on humans, like the lions, humans start killing them off, because lions and predators like them start killing off live stock, like cows.
100% of the animals are used in Africa, so nothing goes to waste.  There is a large amount of money coming in to help preserve the wildlife.
What most, if not all, anti-hunters and animal rights activities don't understand is that we, the hunters, are the largest, if not, the only contributor in habitat protection and conversation.
The outfitters put every effort to insure that the wild lions that are killed are at least 6 plus years old before harvesting them. There is no full proof way to know for sure as they are still field judging of a wild animal. It's not what it was like ten years ago when they would just shoot a lion.
Hunting in Africa is more part of a conservation minded hunting instead of sport hunting that many like to portray.
Aaron helped cofounded a lion conservation taste force which brought scientist and non-hunters together and to create the hunt able lion definition.  It's basically a guideline on which lions to take. It's by no means a law, but it has been adopted by hundred's of safari clubs, outfitters and booking agents around the world.
The only people that are protecting these animals are the hunters. Quote from Aaron to anti hunters and activists:  What you're doing is saving these animals to death.
We asked Aaron to share how to have a conversation with anti hunters in a compelling way.
Aaron feels that within the next 20 to 30 years, private game reserves will be the only last strong hold for African wildlife.
Aaron is a international booking agent and no, we did not know that ahead of time. It just came out during the conversation.
African Lion Hunt with Aaron Neilson with a bow: [VIDEO 22min]
Quick URL Links:
Did you like this episode?
If so, please give us a positive rating on iTunes. You can use this link http://mybowrush.com/itunes * you must have an iTunes account to leave a review.
Follow Us On Facebook:

https://www.facebook.com/Mybowrush
Follow Us On CamoPhoto: *mobile app only
http://camophoto.co
* search for @mybowrush

Follow Us On Twitter:
http://twitter.com/mybowrush
Follow Us On Google +:
https://plus.google.com/+Mybowrush/posts
Share a badass catchphrase?
If you've listened to the whole podcast of each episode, you might have noticed that we added a catchphrase at the end that was sent to use by a listener.  The next one could be yours, so comment below and or send us an email with what you come up with and if we like it, we'll use it.
If you have any questions, feel free to comment below.