Podcast: Play in new window | Embed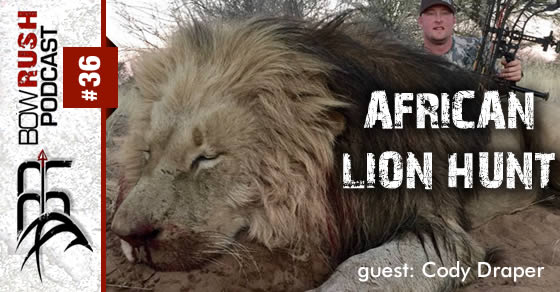 In this episode we spoke with Cody Draper on his recent African Lion hunt.  This was what most would consider an extreme hunt right out of the movie, "Ghost and the Darkness". Well not really, but if you've seen that movie with Val Kilmer and Michael Douglas, there is a part near the end of the movie which gives a perfect example of how powerful these lions really are. Cody did experience something similar with his lion hunt which he shares all about it on the show.  Cody also dives in on a few of his North American hunts near the end of the conversation so make sure to listen to it all.  Enjoy!
Show Notes:
To hunt a lion in Africa with your bow, you have to be approved first.  You can't just purchase a tag and go. It requires approval beforehand so make sure to do your homework in what regulations you need to follow.
The total time it took to hunt the lion was about 12 hours when they committed to a specific lion.
The lion hunt Cody went on was in Kalahari, Africa.
You ultimately need to rely on the guide you pick to insure legitimacy in every step of the pre hunt, the hunt and what happens after the hunt is over.
Nothing goes to waste with the animal.
The hunt is only 10% of the experience.  You learn so much about the culture and the area that you're in, which adds to the overall experience.
Get with a qualified agent when traveling so that they can help to handle your flight and weapons transportation arrangement.
Enjoy Watching The Video Cody Created On The Hunt:

Quick URL Links:

Did you like this episode?
If so, please give us a positive rating on iTunes. You can use this link http://mybowrush.com/itunes * you must have an iTunes account to leave a review.
Follow Us On Facebook:

https://www.facebook.com/Mybowrush
Follow Us On CamoPhoto: *mobile app only
http://camophoto.co
* search for @mybowrush

Follow Us On Twitter:
http://twitter.com/mybowrush
Follow Us On Google +:
https://plus.google.com/+Mybowrush/posts
Share a badass catchphrase?
If you've listened to the whole podcast of each episode, you might have noticed that we added a catchphrase at the end that was sent to use by a listener.  The next one could be yours, so comment below and or send us an email with what you come up with and if we like it, we'll use it.
If you have any questions, feel free to comment below.