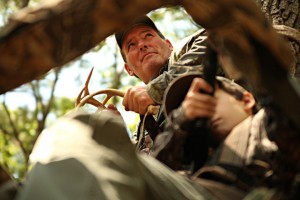 Spend just a few minutes with me and I promise I will find an opportunity to talk about my favorite pastime – hunting. During my childhood I was drawn to the outdoors and particularly loved seeing wildlife of all kinds. While walking to catch the school bus at age 8, four wild turkeys crossed the road in front of me, and I would not have enjoyed a roller coaster ride anymore than seeing those turkeys. I had never seen a wild turkey prior to that morning, but I instantly knew what they were, and I was very excited. Years later as I tried to understand my passion for the outdoors I remembered that turkey sighting, and realized that my reaction was not that of a normal 8 year old. My reminiscences of that youthful event helped me realize that I was born with a love of the outdoors.
That love of the outdoors has been my motivation for spending countless hours hiking, camping, fishing, and hunting. I enjoy all outdoor pursuits, but my favorite is hunting. I took my first deer at age nineteen and my second at age thirty. I kept hunting in those eleven years between those two deer but was unsuccessful and frustrated. The only thing that kept me in the woods was that I really loved hunting. I remember telling my wife that I was going to take up a new hobby, but I could not give up hunting because I truly enjoyed being in the woods. My continued effort made me even more aware that I was created to be outdoors, and more specifically I was "Born to Hunt".
Unlike many outdoorsmen I did not grow up hunting. That is why I was nineteen before I got my first deer. The fact is I had a very tough childhood that was filled with all types of abuse. My father and mother divorced when I was five. I never saw him after they separated. My mother was married numerous times during my childhood, and all of her husbands were abusive alcoholics. I was in a foster home by age ten, and went to live with my maternal grandmother at age twelve. That is where I stayed until college, and it was the first consistency I had experienced in my life.
My childhood kept me from getting an early start in the woods, but never dampened my enthusiasm. I was always intrigued and when I reached adulthood I began spending every available minute pursuing my passion. Obviously, I had much to learn. That is why it took me eleven years of effort to take my second deer. That same passion is what kept me out there learning and refining my skills. Nowadays, I have no trouble filling tags and I even manage to take a trophy buck now and then. I have also taken the wild turkey "Grand Slam". My bow is my preferred weapon. I have used it to take an antelope, wild turkey, and more deer than I can remember. My passion created an extraordinary desire to be a proficient hunter and motivated me to persist until I learned the skills to achieve my goal.
Over the years I have made a special effort to be an ambassador for hunting and I regularly invite people to let me introduce and empower them in the woods. In fact, before my sons were born I had a streak of twelve years that I helped a different person take their first deer and first turkey. That streak ended because I concentrated my effort on helping both of my sons be successful hunters. They both took their first deer at age seven.
I have been empowering hunters for over 20 years now, and I am still excited about empowering others.
"Get after em." – Monte
how2hunt.com