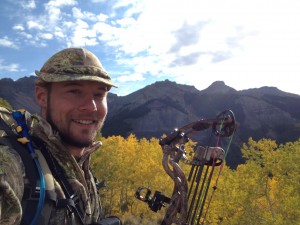 I was introduced to the outdoors at a very young age. Between sports, Boy Scouts, and competitive rifle shooting the only time I spent indoors was forced time by school administrators.
My love and admiration for Mule Deer began years before I was legally able to hunt big game. Upon my return from school one day my younger brother and I were greeted to the largest buck that I have ever seen laying in the bed of my fathers truck. The majesty and pure awe of this prairie ghost astounded me and I was hooked. I had been hunting with my father since before I can remember, literally in my mothers' arms at the age of 3 months on an upland hunt, hunting with dad for whitetails in Nebraska but nothing that you could see above the bed of the truck.
Following my high school graduation I received a full athletic scholarship to the University of Missouri – Kansas City for the schools rifle team where I majored in Mathematics and Statistics and was forced to put my hunting on hold. After the completion of my collegiate career I moved to Colorado Springs to train at the Olympic Training Center where I was able to renew my passion for the outdoors as I began working at the local archery Pro-Shop.
My hunting is centered on backcountry DIY bow hunting for trophy mule deer. At the age of 30 my biggest bow hunting idols are: Randy Ulmer, David Long, and Cameron Hanes. Randy and David take some of the best Mule Deer consistently year after year and Cam is an inspiration for all backcountry DIY bow hunters.
I am now currently employed at Kifaru International here in Colorado, which is a pack manufacturer and lightweight shelter manufacturer.
Pro-Staff positions include:
First Lite hunting Clothing
Caribou Gear game bags
Kifaru International
CBE Archery
Scott Archery
Rokslide.com
Graylightproductions.com
DIYbowhunter.com
Trophy Time Television
XX2i optics (sporting glasses)
Wilderness Athlete
Local Staff Positions include:
Hoyt Archery
Easton Archery
Americas Best Bowstrings