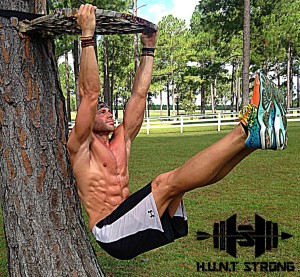 I was born and raised in Tampa, FL and now reside in Wesley Chapel, FL. I was brought into this world by two very supportive parents who taught me to love God and to love others. I am an honors graduate from the University of Florida with a Bachelor's degree in Business Administration and a minor in Management and Sales in Agribusiness. I am a Nationally Certified Personal Trainer. I have been married to my wife, Robin, since March 25, 2006 and we are cherishing every moment with our little girl, Emma Kate.
I grew up learning about and experiencing the great outdoors with my father, who is one of the toughest men I know. I am proud to say that I am an avid outdoorsman who enjoys both fresh and saltwater fishing, hunting all different types of wild game, and essentially living off of the land. Hunting is a demanding sport, it is what drives me to train both physically and mentally beyond my own expectations to be successful.  I train for a specific purpose, I Train to Hunt. I train to resist fatigue and to be confident that when the opportunity presents itself, I will be ready.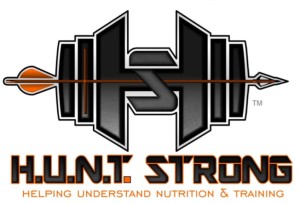 It is because of my passion for both the outdoors and for training that I began a blog on the internet in 2009 called Hunt Strong.  This blog led me to great experiences with great people.  I became involved in outdoor television as a crew member of the Backwoods Life TV show which airs on the Sportsman's Channel.  As amazing an experience of living out a childhood dream can be, God told me He has more planned for my life, bigger plans…
God kept directing me to push further, to reach more people.  For the past five years I have been abiding in my faith, growing stronger in His word, and have been following the path He is laying before me.  Today Hunt Strong is more than a passion to me, it is my calling.  Instead of Hunt Strong being strictly outdoor driven, it took on a new approach.  The H.U.N.T. in Hunt Strong is now an acronym that stands for Helping Understand Nutrition & Training.  I am committed to helping others understand how to cherish and love their holy temples.  I believe in taking care of the gift God created, died for on the cross, and now lives in.  What can be more important than taking care of yourself so in return you can take care of others through your calling?  I have spent years in preparation for this journey, and I'd like to share with you how I got here.
Don't get me wrong, I grew up like any other normal kid in America.  Fried southern foods and fast food menu items were in my regimen.  I ate what I was given and what was convenient.  Sometimes naivety can be your worst enemy.  Fortunately I was involved in competitive sports year round, so my poor nutritional choices never had the full effect on me.  Not the same can be said for kids today as times have changed with electronic advances.  It wasn't until college, after having lived through some tough experiences of being told as a competitive kid I will never make it, that I started to question how my body works and how the foods I eat fuel my body for exercise.  I became a junkie on understanding nutrition, constantly feeding my appetite to know more.  I would spend hours researching literature and then experiment on my body with what I uncovered.  I pushed myself to extremes, further than I ever thought possible.  I entered and conquered competitions across all avenues of sports including physique competitions, extreme mud runs, and stair climb races. It is through these trials and tribulations, successes and failures, that I have accomplished my greatest of victories.  I now know how to take my success beyond my own body and help others to accomplish their goals for a healthier lifestyle.  So that others never have to hear the words, you're just not good enough.
There is one thing that separates me and my philosophies from others…it's that I walk the walk and talk the talk. I do not push products or quick fixes, I believe in eating right and exercising properly.  I am very passionate about what I do. Nothing excites me more than watching my clients and my friends and family reach their goals. I am committed to teaching others what I have studied and perfected. I am a proud follower of Christ, hunter, provider, loving father, husband, son, brother, uncle, role model, author, chef, and friend. I believe in never being satisfied, constantly improving not only my own life, but the lives of others as well. The most important testimony I can give is "Myself".
Davie "Crockett" Ferraro
Hunt Strong, LLC. Founder & CEO
352-514-3406
www.IHuntStrong.com
Proverbs 12:27  "The lazy don't roast any game, but the diligent feed on the riches of the hunt."