Podcast: Play in new window | Embed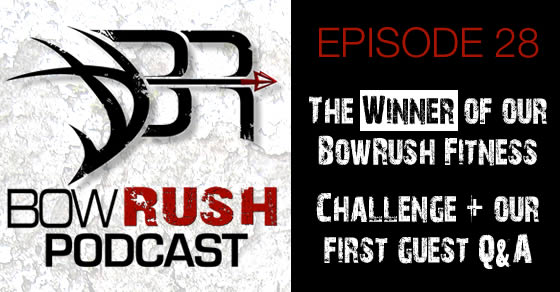 On this episode of The BowRush Podcast, we announced the Winner of our very first BowRush Fitness Challenge, plus we had our very first listener call in with a question.  This episode embarks on a new path for our show moving forward.  This is a short episode, but we hope you feel it was still very informative.  For the question at the end, we gave our answer based on our own person experience.
General show notes:
WINNER of our first BowRush Fitness Challenge is Ryan Stickle
Q&A section for a hunting question that came from one of our listeners.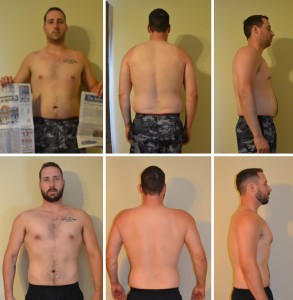 Winner of our first BowRush Fitness Challenge:
The fitness challenge is something that we are very proud of for putting together.  We had a role in changing a number of hunters' lives in a positive way before the hunting season opened up.  We love fitness and we love to hunt so it only made sense to find a way to combine them together.  A physical transformation challenge gave us the outlet we needed and each participant did an amazing job and had incredible results.  The average weight loss was around thirty pounds plus getting conditioned for their hunt.  We will do another challenge as we want to keep fitness part of our show. We want to give a congrats to Ryan for his amazing transformation.
Are you looking to lose 20 to 30 pounds or build lean muscle? Would you like to know what we put together for the participants? If so then reach out to us and we'll be glad to tell you all about it.   You can send us an email or you can send us an audio recording right from our website letting us know how to reach you and what you are looking to achieve.
Our First Call-In from a listener:
Marc had a few questions for us and we were more then happy to share our knowledge.  Here are his questions.
What is the best way to hunt deer in a low tree line field?
How do you handle trespassers and dogs on your property?
How can I handle coyotes on my property?
We gave our own opinions for each question and we hope others can learn from them.  Feel free to share your thoughts below in the comments.
Did you like this episode?
If so, please give us a positive rating on iTunes. You can use this link http://mybowrush.com/itunes * you must have an iTunes account to leave a review.
Follow Us On Facebook:

https://www.facebook.com/Mybowrush
Follow Us On CamoPhoto: *mobile app only
http://camophoto.co
* search for @mybowrush

Follow Us On Twitter:
http://twitter.com/mybowrush
Follow Us On Google +:
https://plus.google.com/+Mybowrush/posts
Share a badass catchphrase?
If you've listened to the whole podcast of each episode, you might have noticed that we added a catchphrase at the end that was sent to use by a listener.  The next one could be yours, so comment below and or send us an email with what you come up with and if we like it, we'll use it.
If you have any questions, feel free to comment below.