Podcast: Play in new window | Embed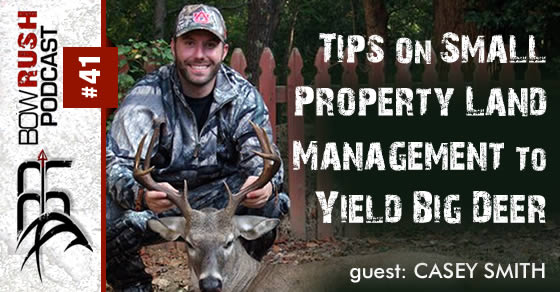 In this episode we speak with Casey Smith about managing a small property to yield big deer.  A lot of us are no strangers to hunting on small properties and sometimes trying to imagine what to do with the little property you have can be challenging.  Casey doesn't just play around with ideas, he's in the fields trying out things that he's learned over the years. It just so happens that he also loves to share his passion for hunting, the preparation of the land he's managing while showing restraint to allow the deer population to grow.  Enjoy!
Show Notes:
If you keep deer feed and give them as little pressure as possible, you'll have deer.
Try to establish year round food sources.
To keep costs down, Casey would try to purchase local seeds that farmers would normally plant that deer would eat. If it worked for farmers and deer ate it then why couldn't you do the same and save on cost?
Know your property and who hunts outside the property line.  If you have hunters near, then you might want to plant your fields more in the center of your property to help draw the deer to stay in your property.
The best education for Casey about hunting and the land management was by taking time to learn from other people.
If you set your property up with food plots to draw in turkeys, you will in turn provide deer with great bedding areas plus year round food source as well.  This also gives does areas to hide fawns in the spring.
Another idea for land management would be to do controlled burns.  This brings new life to the property which is great for all wildlife that would live on the property.
Start establishing mineral sites on your property.  Try to put near water.  Tips... check out tractor supplies for salt blocks that are used for cows because if cows eat it why wouldn't deer. It's almost the same nutritionally as a trophy rock, but at a third the price.  Use deer cain and pour it all over the salt block to get the deer attracted to it.
If you are going to do food plots, make sure to do soil tests and that you fertilize them.
When taking on new property, meet the neighboring property owners and try to learn their hunting intentions and let them know yours.  This will help you understand the hunting situation surrounding your property.
Website Links:

Did you like this episode?
If so, please give us a positive rating on iTunes. You can use this link http://mybowrush.com/itunes * you must have an iTunes account to leave a review.
Follow Us On Facebook:

https://www.facebook.com/Mybowrush
Follow Us On Instagram:
http://instagram.com/mybowrush
Follow Us On CamoPhoto: *mobile app only
http://camophoto.co
* search for @mybowrush

Follow Us On Twitter:
http://twitter.com/mybowrush
Follow Us On Google +:
https://plus.google.com/+Mybowrush/posts
Share a badass catchphrase?
If you've listened to the whole podcast of each episode, you might have noticed that we added a catchphrase at the end that was sent to use by a listener.  The next one could be yours, so comment below and or send us an email with what you come up with and if we like it, we'll use it.
If you have any questions, feel free to comment below.