Podcast: Play in new window | Embed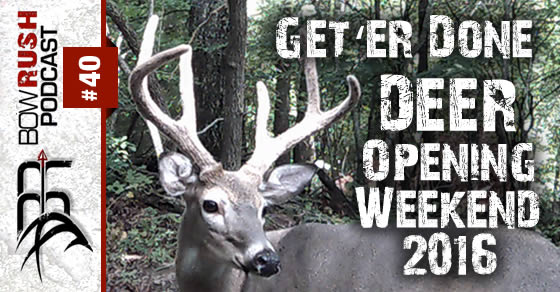 In this episode, Scott and I (Travis) talked about what we expect this opening weekend for archery deer season 2016, here, in Georgia. Hunters in other states have already started filling the freezer and congrats to them, but it's now our turn to "Get 'er Done".  We talked about some of the things that we'll be using this year in the woods as part of our setup and a few tips that we've learned along the way. We're both hunting in different locations in the state of Georgia and kind of have a rival on who is going to put one down first. It won't be easy, it will be hot, but regardless of the weather we will be hunting.
Stay Save, Hunt Smart – Not Hard and as Larry the Cable Guy would say it…. Get 'er Done!
Show Notes:
We went over a few things that we personally are doing and changing up for our own hunting situation and some ideology that we both agree on about hunting and hunters.

Travis's Setup:

Bow:  Mathews
Broadheads:  SlickTricks
Clothing:  46Rail Jersey and old camo pants
Stand:  Millennium Stands M100u Hand-On
Safety Harness:  Trophyline Body Armour
Scott's Setup:
Bow:  Elite
Broadheads:  G5 Montec
Clothing:  46Rail Jersey and old camo cutoffs
Stand:  Halk
Safety Harness:  Trophyline Body Armour
Photos that we spoke about on the show.  Could be a bear, could be Sasquatch.  What do you think?  Comment below.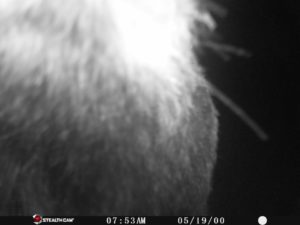 Did you like this episode?
If so, please give us a positive rating on iTunes. You can use this link http://mybowrush.com/itunes * you must have an iTunes account to leave a review.
Follow Us On Facebook:

https://www.facebook.com/Mybowrush
Follow Us On CamoPhoto: *mobile app only
http://camophoto.co
* search for @mybowrush

Follow Us On Twitter:
http://twitter.com/mybowrush
Follow Us On Google +:
https://plus.google.com/+Mybowrush/posts
Share a badass catchphrase?
If you've listened to the whole podcast of each episode, you might have noticed that we added a catchphrase at the end that was sent to use by a listener.  The next one could be yours, so comment below and or send us an email with what you come up with and if we like it, we'll use it.
If you have any questions, feel free to comment below.