Podcast: Play in new window | Embed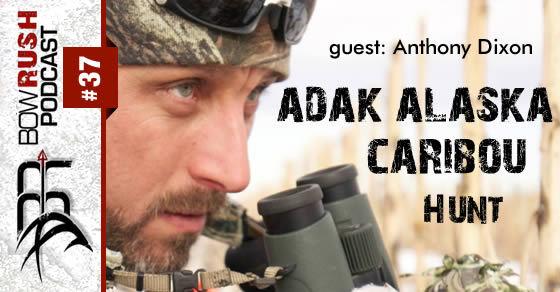 Anthony Dixon is back to share one of his extreme hunting trips that he took with Michael Waddell on Bone Collector back in 2011.  It was an Adak, Alaska Caribou hunt.  If you've been following our show for a while, you know that a Caribou hunt in Alaska is my Top-Of-The-Bucket-List hunts so needless to say (but I'm going to) this episode was something that I was really looking forward to recording. It was a pleasure to hear Anthony's take on the whole experience because he set the stage really well on what it was like being out there. I hope you enjoy!
Fun Fact:
Adak is an island in Alaska where at one point in time was a military base (after research I found out it was a Naval Air Facility), but was abandoned back in 1997 and reopened as Adak Airport. The facility was designated a National Historic Landmark for its role in World War II, although most of its elements from that period have been demolished or lay in ruins.
Show Notes:
Adak means:  The Birthplace of the Winds.
This is a do it yourself type of hunt, but it's

very affordable for the average hunter to achieve

.
Caribous were transported onto the island years ago to help supply the people who lived there as a meat source.
Back in 2011 there were around 60 to 100 people who still lived in Adak, so it's a very small community or at least based on Anthony's recollection of his trip from back in 2011.
I asked Anthony why Adak and he said Adak is a do-it-yourself hunt experience in Alaska which was the type of hunt he wanted.
Anthony, Shawn and Michael Waddell, and Steve, the camera man, rented 4-wheelers to help get them in and out of the island.
They went out about 5 miles or more deep into the island and there is no help so you are all on your own to survive.
It's a hard terrain to hunt, because of its high valleys, large mountains and it rained, making the ground wet and muddy.
There are no other predators other than human on this island.
Anthony brought up the mindset of "in and out – and save" while on hunts like these, because the simplest mistake can effect your hunt and everyone else.
As a perfect example of who Anthony is, during the conversation, he jumps right in to teaching archery techniques.  I don't mind, because he has a wealth of knowledge and I'm always open to hearing his thoughts and ideas so that I can be a better bow shooter.
Important fact to be aware of is that you might find yourself in a few spots where there are some unloaded ordinance or a better way to put it… decommissioned grenade launchers. Keep an eye out for them.
If Anthony would do the hunt again, he would do it in a boat on the south end of the island. You can't pay a captain over there to do that, because they are not guides and don't have a license so you would need to find a trade that can happen like a hunt somewhere else in the states.
If you go on a hunt like this to Alaska for animals like Caribou with a group, the dynamics of your team is everything.
When you come home, if you're a dad then jump back in the role as a dad and be a good dad.  Let your family know how important they are to you and show them how much you care and appreciate them.
An inside look while they were on their trip:

Quick URL Links:

Did you like this episode?
If so, please give us a positive rating on iTunes. You can use this link http://mybowrush.com/itunes * you must have an iTunes account to leave a review.
Follow Us On Facebook:

https://www.facebook.com/Mybowrush
Follow Us On CamoPhoto: *mobile app only
http://camophoto.co
* search for @mybowrush

Follow Us On Twitter:
http://twitter.com/mybowrush
Follow Us On Google +:
https://plus.google.com/+Mybowrush/posts
Share a badass catchphrase?
If you've listened to the whole podcast of each episode, you might have noticed that we added a catchphrase at the end that was sent to use by a listener.  The next one could be yours, so comment below and or send us an email with what you come up with and if we like it, we'll use it.
If you have any questions, feel free to comment below.