Podcast: Play in new window | Embed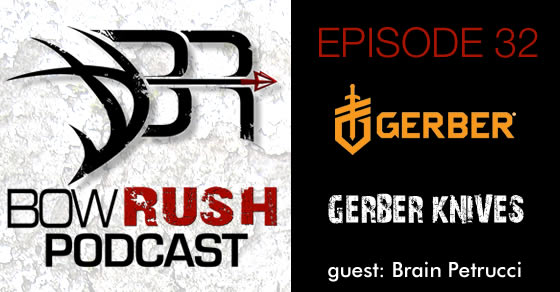 You know the name and chances are you might even have one of their knifes in your pocket.  The company is called Gerber and we brought on Brian Petrucci, Channel Manager over at Gerber, to come on our show to talk about Gerber knives and some of the new things they're bringing to the hunting market.
Show Notes on Gerber Knifes
Started in 1939 in Portland Oregon
Huge support of the military and number one in knife supplier for the military.
Know yourself and what you want before you purchase your knife
A knife is a tool and it can be very specific and very personal to each person.
Knife laws very from state to state so you want to make sure you research on your your stuff.
Classic fixed blade knife is usually your general knife of choice something like Gerber Strong Arm which is a full fixed blade knife.
Rule of thumb with, S30 V blade is going to out perform from an edge retention over a 420 High carbon Steal blade when using in the field.
You want to keep you eye out for the progression of edge retention and rockwell hardness
Brian suggests that you check out Span Archery Solid State Took.  Its the tool that every archery should have but never seems to have it when they need it.  This is why Gerber made it.
Span Archery Tool Features:
All Metal Construction
19 Tools – 1 Solid State
¼" Standard Bit Tip Driver
Bit Tip Storage
Torque Generating Design
Integrated Blade Sharpener
Broadhead Wrench
3x Hex Wrench
Bottle Opener
Hunter Line Tools:
Vital Line – its a family of tools that are used to help make your process faster and with more control.  One of the newest addition is the Vital Pocket Folder knife which is the surgical knife.  This is a knife as a hunter that is something to check out.   http://goo.gl/ZK1pYl
HINT HINT COMING OUT SOON!
Gerber 06 Automatic which is a flagship heritage knife coming out celebrating it's 10 anniversary.  It should be available in May.
Quick Links:
AKTI ( American Knife & Took Institute)
Did you like this episode?
If so, please give us a positive rating on iTunes. You can use this link http://mybowrush.com/itunes * you must have an iTunes account to leave a review.
Follow Us On Facebook:

https://www.facebook.com/Mybowrush
Follow Us On CamoPhoto: *mobile app only
http://camophoto.co
* search for @mybowrush

Follow Us On Twitter:
http://twitter.com/mybowrush
Follow Us On Google +:
https://plus.google.com/+Mybowrush/posts
Share a badass catchphrase?
If you've listened to the whole podcast of each episode, you might have noticed that we added a catchphrase at the end that was sent to use by a listener.  The next one could be yours, so comment below and or send us an email with what you come up with and if we like it, we'll use it.
If you have any questions, feel free to comment below.