Podcast: Play in new window | Embed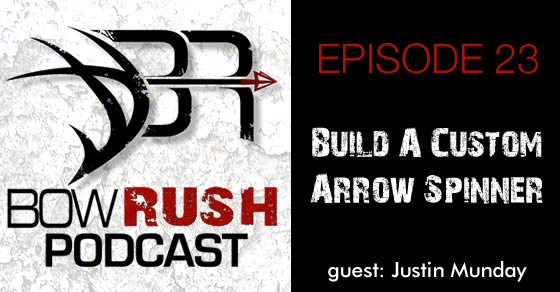 Welcome back to another awesome addition of The BowRush Podcast.  This week we wanted to do an episode on custom builds that will help you be a better bow hunter. We brought on Justin Munday to shares on how to build a custom arrow spinner which helps analyze your arrow shaft for imperfections.  We even get into the subject of different types of tuning techniques.  If you are interested in custom builds then you'll like this episode.
General show notes:
The arrow spinner build: The cost to build this can be done for less than $20.00 depending on what you have around the house.  Justin took apart an old CD Walkman and used the rotational motor that moved the CD and attached a rubber band which goes around the arrow. This allows you to remove your hands and have a more effective observation with different perspectives to fully see how your arrow is spinning.
Justin purchased some parts from a home improvement store, but he also used skateboard bearings as the rotational pieces that the arrows rested on.  It seems this is a fairly simple build, but can give you an extra insight on what your arrows are doing.  This is just another way to be more proficient at your skills.


Do it yourself reflecting:  Justin purchased a Bitzenburger Dial-O-Fletch Fletching Jig which allows him to reapply fletching to your arrow.  The jig itself is not that cheap, but over time can be a cost saver if you factor in the time, gas, etc. it takes to have a bow tech do it for you rather than doing it yourself.  Justin talks about different ways to adjust the fletching angle to give you different flight patterns which improve your shot as well as things to look out for when shooting at longer distances.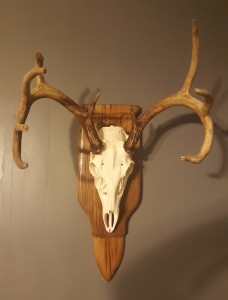 Tuning Practices:  Justin and I got on the subject about different types of tuning practices that you can do.  We briefly spoke about paper tuning, walk back tuning, French tuning and modified finch tuning. Each have their advantages in helping you narrow down the irregularities in your shot and provide insight on things to adjust on your bow.
Overall, this episode was packed with great topics.  Justin is just an every day bow hunter who has a passion for bow hunting, like myself, and loves sharing what he knows with others.  What I love about talking with people who love bow hunting is that you can learn something from every person you meet.  It was a pleasure chatting with Justin.
Did you like this episode?
If so, please give us a positive rating on iTunes. You can use this link http://mybowrush.com/itunes * you must have an iTunes account to leave a review.
Follow Us On Facebook:

https://www.facebook.com/Mybowrush
Follow Us On Twitter:
http://twitter.com/mybowrush
Follow Us On Google +:
https://plus.google.com/+Mybowrush/posts
Share a badass catchphrase?
If you've listened to the whole podcast of each episode, you might have noticed that we added a catchphrase at the end that was sent to use by a listener.  The next one could be yours, so comment below and or send us an email with what you come up with and if we like it, we'll use it.
If you have any questions, feel free to comment below.