Podcast: Play in new window | Embed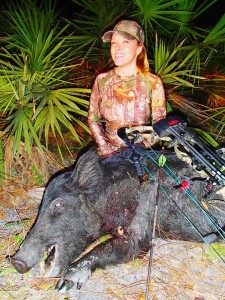 In this second part of our conversation with Jen "The Archer" Cordaro, she shares her ideas on how we need to turn the script a little bit when talking to anti hunters and think about it in a systemic point of view.
Jen shares on a few steps to consider before taking on a debate with an anti hunter.   When anti's are pointing the finger at you during a stand off, we as hunters can sometimes get defensive instead of reflexive.  Remember, its not about you that they are angry about.  They could be acting on something that's accruing.  They don't like that this is going on… we are doing this… so how do we have a conversation now?
Jen loves teaching the youth in safety when using any type of weapon.  The more education the child has, the more they are able to handle the situation.
We get into the topic of reverse sexism as it seems that a lot of comments Jen gets are from women.  It seems that women outside the hunting industry are policing the women inside the hunting industry because huntresses don't fit in the box.
We talk with Jen about her favorite type of bow hunting.
This episode is Part 2 of a two part conversation.   Check out part 1 Episode 012.
BR012 – Vegetarian to hard core hunter – Jen "The Archer" Cordaro [Part 1]
QUICK URLS:
https://www.facebook.com/JenTheArcher
https://www.youtube.com/channel/UCGo2Yr9ffeNjDO0nx5ewoCQ
Did you like this episode? If so, please give us a positive rating on iTunes. You can use this link http://mybowrush.com/itunes * you must have an iTunes account to leave a review.



Follow Us On Facebook:
https://www.facebook.com/Mybowrush
Follow Us On Twitter:
http://twitter.com/mybowrush
Follow Us On Google +:
https://plus.google.com/+Mybowrush/posts
Share a badass catchphrase?
If you've listened to the whole podcast of each episode, you might have noticed that we added a catchphrase at the end that was sent to use by a listener.  The next one could be yours, so comment below and or send us an email with what you come up with and if we like it, we'll use it.
If you have any questions, feel free to comment below.