Podcast: Play in new window | Embed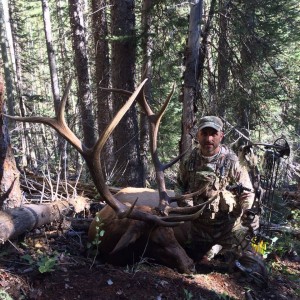 We had a great time speaking with Anthony Dixon about long distance shooting.  Anthony is someone we believe helped pave the road for other hunters to accept that it's ok to shoot long distance at an animal as long as you know your capabilities.
Fun fact to know when choosing the right broadhead for long distance shooting:
Fixed broadheads will shoot very well up to 50 yards, but the separation will start once you leave 50 yards reaching past 70, 80, 90, 120 plus.  Fixed broadheads leave you zero room for mistakes while a mechanical broadhead can be more forgiving.
Tips to improve your shooting while having fun.
Anthony has always believed that you should climb higher than the average tree stand hunter and place shots that are more challenging.  If the average tree stand is around 18 feet off the ground, then climb 20 to 25 feet off the ground.   This will help you learn more about your capabilities.  Plus deer are used to seeing huntings at around the same height so if you're higher than normal, they might not even notice you.   Over time, you'll start to learn your ark and the projectory that the arrow will fly when challenging yourself on what you and your bow is capable of performing.   This is great stuff, but you can't learn that unless you start coming up with cool shots – per Anthony.
Always shoot at the distance you're comfortable with. If you are only comfortable  in shooing at 35 yards then shoot at 35 yards but push your self in the off season by practice at longer distances and harder shot placements.  This will only improve your confidence in the 35 yard shots at that you take when it counts.
A few animal Trivial Fun Facts to look forward to in this podcast:
Have you ever wondered if a deer feels pain like we do?  Well, Anthony shares his thoughts on this in this episode and we also go over the bermuda triangle in shot placement and how that effects your kill shot.
Watch Anthony Dixon 100 Yard Shooting Tips video:

Some URLS to checkout:
http://teamfmp.com/store/ * you can find the full collection of Anthony's hunting films.  These are also perfect stocking stuffers!
www.46rail.com  *Anthony's hunting apparel company.  

Don't miss out on this year's product line while it's still available.
Did you like this episode? If so, please give us a positive rating on iTunes. You can use this link http://mybowrush.com/itunes * you must have an iTunes account to leave a review.



Follow Us On Facebook:
https://www.facebook.com/Mybowrush
Follow Us On Twitter:
http://twitter.com/mybowrush
Follow Us On Google +:
https://plus.google.com/+Mybowrush/posts
Share a badass catchphrase?
If you've listened to the whole podcast of each episode, you might have noticed that we added a catchphrase at the end that was sent to use by a listener.  The next one could be yours, so comment below and or send us an email with what you come up with and if we like it, we'll use it.
If you have any questions, feel free to comment below.