Podcast: Play in new window | Embed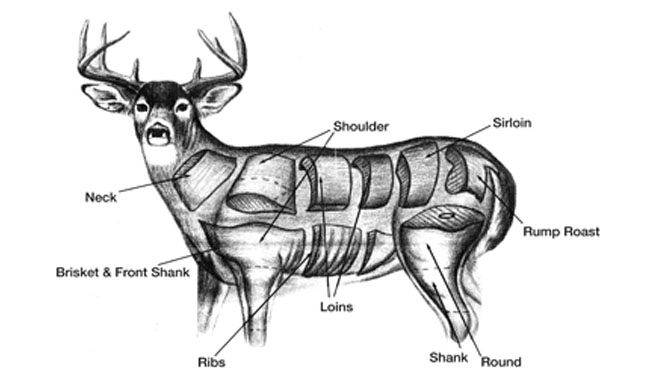 Have you ever wondered what really happens when you drop off your resent kill to a game processor?  Did you ever want to process your own meat instead?  Well, in this episode we spoke with Terry Fraser on what really happens behind close doors at game processors – you will be surprised to hear what he has to say.  Terry also shares the top things you'll need in order to start processing your own meat.
If you take your meat to the processor, here are some tips that will help you get the best out of your meat.
Shot placement is key
If you're field dressing beforehand, ice down the animal as soon as you can.  This helps stop the blood flow.
Bring ice bags and put in chest cavity to help drop down the temperature of the meat.
Tips on killing the gamy flavor:
You can use any kind of acidity
Orange juice
Buttermilk
Pineapple juice
Marinade * Terry uses water, 1 tbsp of salt, 1/3 cup of vinegar and let sit overnight, drain and wash before eating.
Things you'll need to start processing your own meat:
Refrigerator or cooler and allows the meat to age 5 to 10 days.  This helps the meat to tender and for the blood to drain out.
Pan to catch the blood
Cuber Saw for cubed meat
Table
A good Fillet knife
Butcher gloves – his helps keep you keep all of your fingers
Grinder to grind the meat.  The $120 ones work just as good as the commercialized ones.

For ground, you'll need fat (about 0.10% of fat for 1 lbs of meat), usually you can ask the butcher at your local grocery store for pork fat.

Vacuum seal to help preserve the meat
Texas Guide URL:
Hunting with Marshall huntingwithmarshall.com 210.740.6411
Did you like this episode? If so, please give us a positive rating on iTunes. You can use this link http://mybowrush.com/itunes * you must have an iTunes account to leave a review.



Follow Us On Facebook:
https://www.facebook.com/Mybowrush
Follow Us On Twitter:
http://twitter.com/mybowrush
Follow Us On Google +:
https://plus.google.com/+Mybowrush/posts
Share a badass catchphrase?
If you've listened to the whole podcast of each episode, you might have noticed that we added a catchphrase at the end that was sent to use by a listener.  The next one could be yours, so comment below and or send us an email with what you come up with and if we like it, we'll use it.
If you have any questions, feel free to comment below.