Podcast: Play in new window | Embed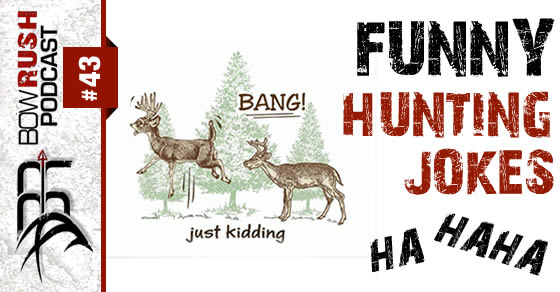 In this episode, we changed the objective to give you an episode dedicated for some funny hunting jokes.  Now, I'm no comedian by any means so I'm just going to go ahead and say that I'm sorry if the timing on the punch lines suck a little. LOL!  These are hunting jokes that have been floating around for years so we felt like putting a few together for the next time you're sitting around a campfire with your buddies.  Hope you enjoy!
Show Notes:
Funny Jokes.  <- can I get anymore obvious?
Like I said above, I'm not a comedian.
Easter egg sound clip at the end of the episode so make sure to listen past the end closing.
Did you like this episode?
If so, please give us a positive rating on iTunes. You can use this link http://mybowrush.com/itunes * you must have an iTunes account to leave a review.
Follow Us On Facebook:

https://www.facebook.com/Mybowrush
Follow Us On Instagram:
http://instagram.com/mybowrush
Follow Us On CamoPhoto: *mobile app only
http://camophoto.co
* search for @mybowrush

Follow Us On Twitter:
http://twitter.com/mybowrush
Follow Us On Google +:
https://plus.google.com/+Mybowrush/posts
If you have any questions, feel free to comment below.