Podcast: Play in new window | Embed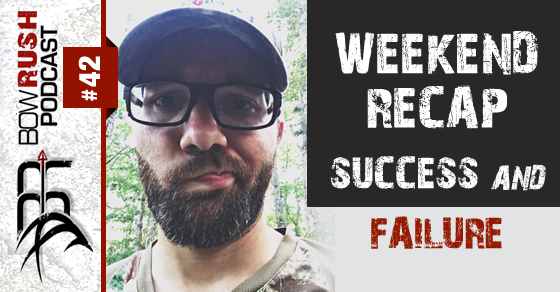 In this episode I shared how my weekend went during the hunt on Sunday.  I was successful in taken two deer Sunday evening however I know I could have done better in placement of my shots.  You can do all the training you want during the off season but you learn so much more when you're in the moment, in the woods, going after the animal you want to harvest.   This was a very short discussing and while it was short, Scott and I tried to put in perspective how even if you are successful during your hunt, you can still fail.  It's how to assess the situation and learn from it.  Enjoy!
Show Notes:
Spoke briefly on the race I did on Saturday.
I was successful in harvesting two deer on Sunday.
We talked about where I failed and how I can improve next time.
Did you like this episode?
If so, please give us a positive rating on iTunes. You can use this link http://mybowrush.com/itunes * you must have an iTunes account to leave a review.
Follow Us On Facebook:

https://www.facebook.com/Mybowrush
Follow Us On Instagram:
http://instagram.com/mybowrush
Follow Us On CamoPhoto: *mobile app only
http://camophoto.co
* search for @mybowrush

Follow Us On Twitter:
http://twitter.com/mybowrush
Follow Us On Google +:
https://plus.google.com/+Mybowrush/posts
Share a badass catchphrase?
If you've listened to the whole podcast of each episode, you might have noticed that we added a catchphrase at the end that was sent to use by a listener.  The next one could be yours, so comment below and or send us an email with what you come up with and if we like it, we'll use it.
If you have any questions, feel free to comment below.