Podcast: Play in new window | Embed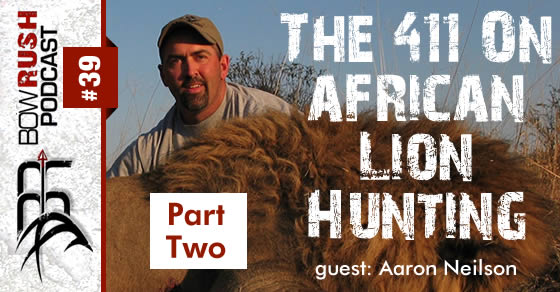 This is the continuance from our previous episode #38 where we spoke with Aaron Neilson about hunting lions in Africa and how little we know about Africa.  The conversation was so good that we kept asking questions and ended up talking so long that we decided to break up the conversation into two episodes.  Check out the first half before listening to this second half.  Trust me, it's well worth the time.  Click here to listen to episode #38.
Show Notes:
In the second half of the conversation, we spoke a lot about western hunting and the value on sharing the passion for hunting to the next generation.
Aaron has killed over 100 different species of animals all over the world.
Hunting with a bow is not any less expensive than hunting with a riffle. In fact, often times, it will increase the cost, because it takes longer to complete the hunt.
We spoke on what is a respectable tipping amount to pay a guide after a hunt.  You will be surprised at what he says.
Aaron has a great philosophy, which is, "always hunt smarter – don't hunt harder".
Quick URL Links:

Did you like this episode?
If so, please give us a positive rating on iTunes. You can use this link http://mybowrush.com/itunes * you must have an iTunes account to leave a review.
Follow Us On Facebook:

https://www.facebook.com/Mybowrush
Follow Us On CamoPhoto: *mobile app only
http://camophoto.co
* search for @mybowrush

Follow Us On Twitter:
http://twitter.com/mybowrush
Follow Us On Google +:
https://plus.google.com/+Mybowrush/posts
Share a badass catchphrase?
If you've listened to the whole podcast of each episode, you might have noticed that we added a catchphrase at the end that was sent to use by a listener.  The next one could be yours, so comment below and or send us an email with what you come up with and if we like it, we'll use it.
If you have any questions, feel free to comment below.