Podcast: Play in new window | Embed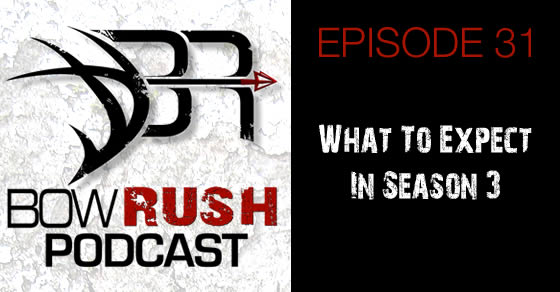 How's it going BowRush listeners?  I'm excited to say we are back in swing of things for the show.  As you might know we took a slight break during the new year.  If you were wondering what happen to us, well in this short episode, I'll bring you up to speed on everything.  I also talk about what our goal are for this season and hopfully you will be just as excited as I am.
Season 3 Show Goals
Start doing video product reviews
More product manufacture episodes
Focused fitness segments
Episodes with power name players in the industry
General bowhunting tips and tactics from the everyday hunter.
It's going to be an exciting season so stay tuned.
Did you like this episode?
If so, please give us a positive rating on iTunes. You can use this link http://mybowrush.com/itunes * you must have an iTunes account to leave a review.
Follow Us On Facebook:

https://www.facebook.com/Mybowrush
Follow Us On CamoPhoto: *mobile app only
http://camophoto.co
* search for @mybowrush

Follow Us On Twitter:
http://twitter.com/mybowrush
Follow Us On Google +:
https://plus.google.com/+Mybowrush/posts
Share a badass catchphrase?
If you've listened to the whole podcast of each episode, you might have noticed that we added a catchphrase at the end that was sent to use by a listener.  The next one could be yours, so comment below and or send us an email with what you come up with and if we like it, we'll use it.
If you have any questions, feel free to comment below.