Podcast: Play in new window | Embed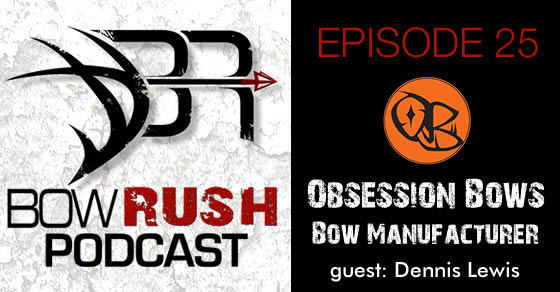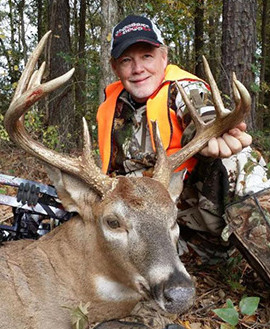 Welcome back to another awesome addition of The BowRush Podcast.  This week we covered Obsession Bows with the Co-Owner/Founder Dennis Lewis.   Talk about a down to earth kind of guy who loves what he does.  You might not know this, but Dennis is hard at work making the bows just like the ones who work for him.  Obsession Bows have sure made a big name for themselves for just a young company, but maybe it's because who's behind it all.   What you will learn from Dennis is that he's a straight shooter and tells it how it is for the company, their bows and the future.  It was truly a pleasure speaking with Dennis.  Side note, since Obsession Bows are made here, in Georgia, maybe I'll try to see if I can take a tour of their facility.
General show notes:
Obsession Bows do a color fusion process for their wicked camo designs which is a new process that many bow companies are not doing.  Obsession bows chose to do this instead of the water transferred (dipping of bows) process which is how it's been done in the past and still done today from other companies.  As many are aware, water transfer process has a tendency to wear off over time, especially around the handle due to sweat and chemicals we use.  Color Fusion is a process done by a heated transfer of a dye. Basically think of it as if you were to give your riser a tattoo.
Obsession Bows are building their bows with a two track cam system which is the latest in bow architecture.  These cams are a mirror image cam from top to bottom.  Nice tidbit of information is that the two track cam system was invented here, in Georgia.
What set Obsession apart back in 2014 was when they introduced their new design of the riser with the shape of a bat wing and also got exclusive rights to the stormy hardwoods pattern camo.  It was the same year they won the Editor's Choice Award.
Best Obsession bow for this year: is the Fusion 6 because of it's a 32 inch axel to axel setup; however, the Delta Six is the runner up as it's a very good hunting bow.
Sneak-Peak for 2016:  Obsession is working to add Realtree and Mossy Oak camo pattern to their bow line.  On top of that, they are going to let the consumer have more freedom with the pattern of choice.  What Dennis says, is if you want something like a Cryptic camo then you can get it.  He believes that is what set Obsession Bows apart from other companies.
Dennis thinks that their Addiction OBB bow which is a 36 1/2 inch axel to axel bow, might be his personal pick to use for hunting and 3D shooting.  The Evolution and Fusion bows are just as good, but it really depends on your preference.
Some Cool Facts!  In this episode, Dennis is about to school you on different cam design systems and the difference between slim limbs to slit limbs in a way that you may have never known before. Dennis even shared the fact that most, if not, all manufacturers are paying out some sort of licensing or pertinent fees which seems crazy.  I won't share it on the post, but man it will have your heads turning.  It's in the second half of the show.
With all the good things to say about Obsession bows, the thing that sucks about them, and Dennis is the first to admit it, is their current delivery time.  That being said, it's only because the demand for their bow is so high, keeping up with the orders has been a challenge which is why they are currently putting so much work into building an in house color fusion process.  This should allow them to speed up their fulfill time and get your bow in your hand sooner.   I guess if you think about it… anything good takes time and so if you want one of their bows, you'll just have to wait a little while for it, but hopefully not as long anymore.
Quick Links: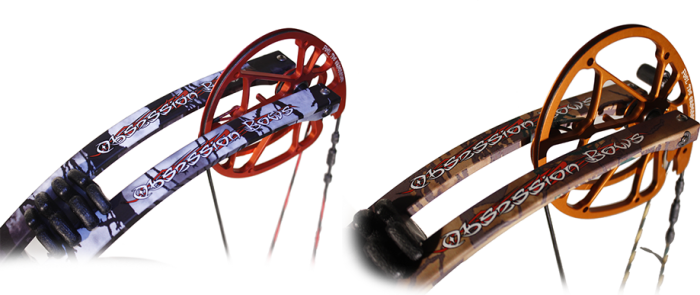 Did you like this episode?
If so, please give us a positive rating on iTunes. You can use this link http://mybowrush.com/itunes * you must have an iTunes account to leave a review.
Follow Us On Facebook:

https://www.facebook.com/Mybowrush
Follow Us On Twitter:
http://twitter.com/mybowrush
Follow Us On Google +:
https://plus.google.com/+Mybowrush/posts
Share a badass catchphrase?
If you've listened to the whole podcast of each episode, you might have noticed that we added a catchphrase at the end that was sent to use by a listener.  The next one could be yours, so comment below and or send us an email with what you come up with and if we like it, we'll use it.
If you have any questions, feel free to comment below.